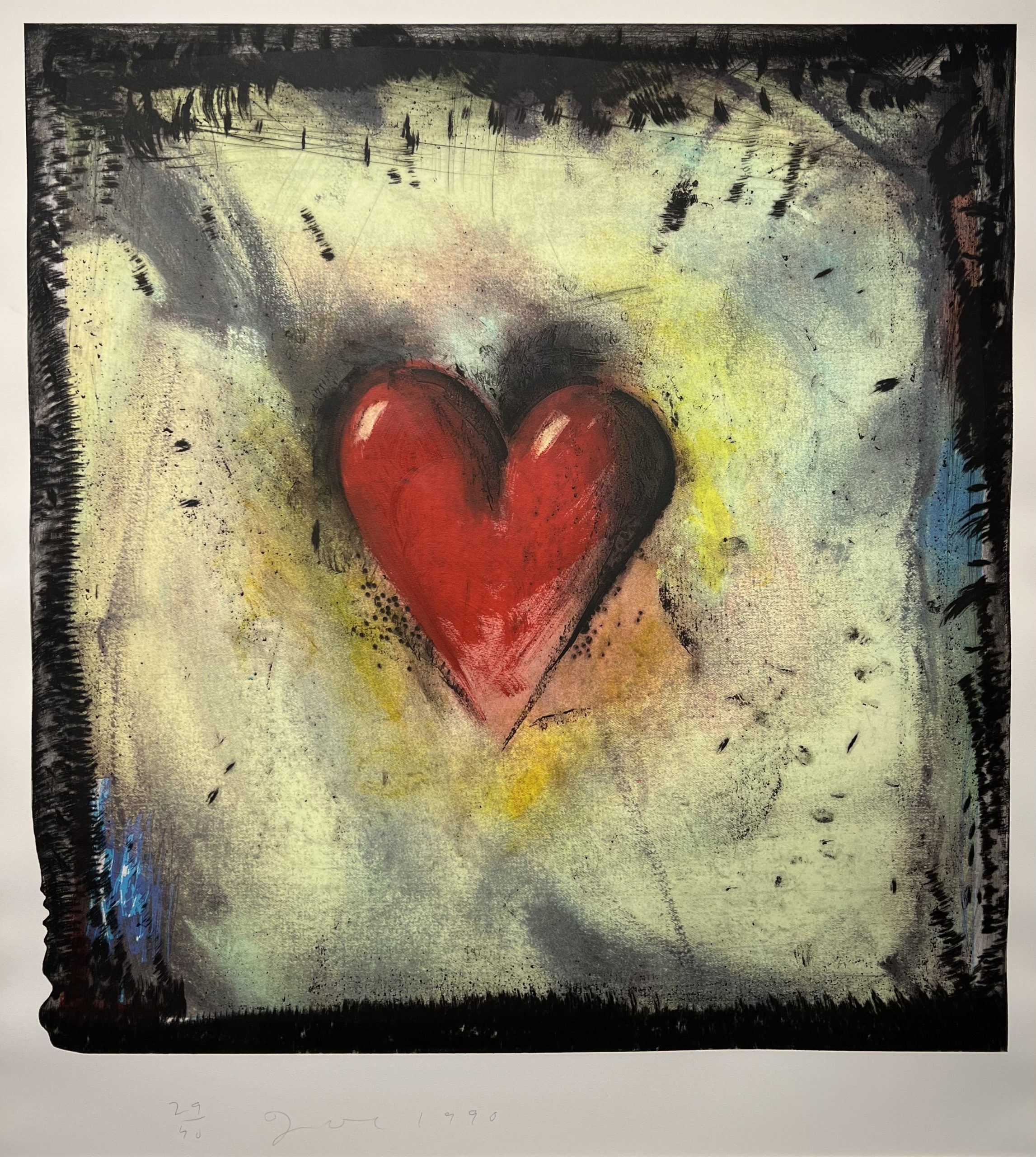 Jim Dine
Jim Dine (born June 16, 1935) is an American artist whose œuvre extends over sixty years. Dine's work includes painting, drawing, printmaking (in many forms including lithographs, etchings, gravure, intaglio, woodcuts, letterpress and linocuts), sculpture and photography; his early works encompassed assemblage and happenings, while in recent years his poetry output, both in publications and readings, has increased.
Dine has been associated with many art movements including Neo-Dada (use of collage and found objects), Abstract Expressionism (the gestural nature of his painting), and Pop Art (affixing everyday objects including tools, rope, articles of clothing and even a bathroom sink) to his canvases, yet he has avoided such classifications.
At the core of his art, regardless of the medium of the specific work, lies an intense autobiographical reflection, a relentless exploration and criticism of self through a number of personal motifs including: the heart, the bathrobe, tools, antique sculpture, and the character of Pinocchio (among flora, skulls, birds and figurative self-portraits). Dine's approach is all-encompassing:
"Dine's art has a stream of consciousness quality to its evolution, and is based on all aspects of his life—what he is reading, objects he comes upon in souvenir shops around the world, a serious study of art from every time and place that he understands as being useful to his own practice."
Dine has had more than 300 solo exhibitions, including retrospectives at the Whitney Museum of American Art, New York (1970), the Museum of Modern Art, New York (1978), Walker Art Center, Minneapolis (1984–85), Frederik Meijer Gardens & Sculpture Park, Grand Rapids, Michigan (2011) and Museum Folkwang, Essen (2015–16).
His work is in permanent collections including the Art Institute of Chicago; the Metropolitan Museum of Art, New York; the Musée National d'Art Moderne, Centre Pompidou, Paris; the National Gallery of Art, Washington, D.C.; Solomon R. Guggenheim Museum, New York; Tate Gallery, London; Tokyo Metropolitan Art Museum, Tokyo; and Yale University Art Gallery, New Haven, Connecticut.
Dine's distinctions include nomination to Academy of Arts and Letters in New York (1980), Commandeur de l'Ordre des Arts et des Lettres (2003), the British Museum Medal (2015) following his donation of 234 prints to the museum in 2014, membership of the Accademia di San Luca in Rome (2017), and Chevalier de l'Ordre de la Légion d'Honneur (2018).